<< back to list
Why did you choose Atlas MedStaff?
I choose to leave a 17 year career in software sales because I was taken aback by the vision of the owners of Atlas MedStaff, who valued people and relationships more than the bottom line. Putting people before profits. This aligned with my core principle beliefs. After being at Atlas for over a year now I continue to see this vision in action every day and it's AMAZING!
Family:
I have been married for 18 years to my incredible wife and we are blessed with 3 wonderful kids (some days, not so wonderful, lol).
Pets:
We have two dogs, Daisy (Cocker & English Spaniel mix) and Lucy (Shih-poo). So technically, we have 5 kids.
Hobbies:
I enjoy playing/watching soccer – Visca Barca!! I also enjoy traveling and learning about places, people, cultures, foods, music and languages.
Any other information you want to share:
Solomon asked God for wisdom. If I had a choice I'd ask for empathy, so I can better understand my fellow beings.
Top 3 things on your Bucket List:
1. I would like to visit all major soccer stadiums in Europe
2. I would love to attend a World Cup Soccer final in person. Russia 2018? Maybe!
3. I would love to journey through the west coast of South America from the southern tip of Argentina to the coast lines of Colombia.
Favorite Quote(s):
"We make living by what we get, but we make a life by what we give." -Winston Churchill
"Life is what happens to you while you're busy making other plans." -John Lennon
"You must be the change you wish to see in the world." -Gandhi
Bipin's Videos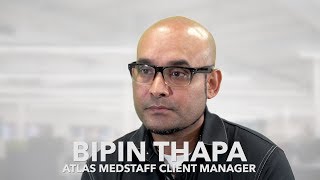 Bio